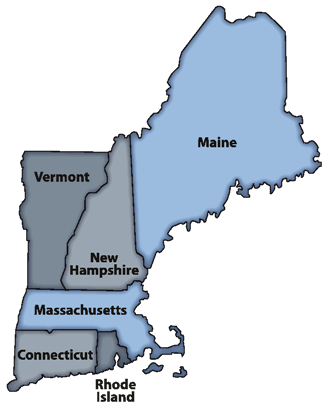 With airfares at an all-time low and inexpensive travel the preferred option for most Britons, a large portion of the country's frequent travellers are jumping the pond for a holiday in the northeast USA. While New York City tends to receive the region's major share of visitors, there's certainly reason to skip the city and head north – the historically significant New England region is just a few miles up.
New England is frequently skipped over by Britons visiting the United States, despite its historical importance for both nations. The region consists of the six states northeast of New York, hosting the nation's important regional centres and a bevy of interesting historical areas. From Boston to Maine, there are few locations within New England that aren't steeped in history.
But what's the best way to see the quaint, picturesque countryside? Flights within the region tend to be conveniently priced and even more conveniently scheduled, making use of low-cost airfields and the area's high population density. With two of the country's biggest cities on its borders, flying into and out of New England's major cities is an effortless and fairly inexpensive endeavour.
However, given the region's proximity to international flight hub New York City, is there any real reason to avoid the country's advanced highway system? The real appeal of New England rests in its quaint towns and tradition – things that simply aren't experienced from the window of a plane. Hire a car in New York City and return it in Boston, enjoying the region's quiet towns along the way.
Given the region's population density, train is also a viable option. A variety of Amtrak services are available from New York, giving those who arrived by plane a simple option for cheaply leaving the city. Whichever your flavour, New England is an interesting travel destination and an increasingly appealing alternative to Europe's standard list of cultural and historical destinations.
Related Articles