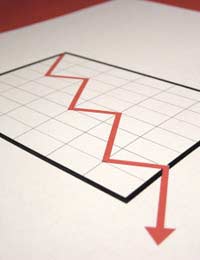 Britain's travel industry certainly isn't enjoying the warmth of summer. Since the beginning of 2009, over fifty of the nation's leading travel companies have been forced to close their doors due to weak revenue and dwindling profits, leaving thousands of holidayers stranded overseas and an even larger number out of pocket. The latest failure is Kiss Flights – a large flight and holiday sales group.
The failure of Britain's travel industry could continue to spread, warns accountancy firm PwC. With many Britons angered by the failure of Kiss and other holiday providers, spending in the industry is likely to decrease alongside low consumer confidence. The problem is likely to be compounded due to limited savings and consumer spending, particularly on luxury items such as personal holidays.
Independent travellers, however, appear to be unsurprised by the failure of Britain's most visible travel firms. The industry has seen a significant decrease in profits over the last few years, as more holidayers opt to book their flights independently and use price comparison websites to check for low-cost hotel rooms. One such firm, American Priceline, has reported record profits this year.
It's a string of commercial failures that many believe could signal the end of the commission-driven travel industry. Travel agencies and other third-party booking companies have typically found value in offering direct fares and discounted travel – services that are now accessible to consumers online and through aggregator services. Analysts are predicting a further decline in travel agency bookings.
For the industry, it's a problem that is unlikely to go away. Just as traditional publishing is fighting a losing battle against direct-access online products, the travel industry appears to be fighting against an audience that, in many ways, no longer needs it. For the next decade, low-cost fares and cheaper holidays may be found online, not in the window of the local travel agency.